ALIANO'S RISTORANTE PRESENTS Cigar night East Dundee IL OCT. 26 AT 7 PM!
Cigar night East Dundee IL – Join us for a special night of authentic Italian cuisine, fine wines, and good cigars at Aliano's Ristorante, 310 North River Street in East Dundee! Call to make a reservation on Wednesday, Oct. 26 at 7 p.m. and enjoy the following outstanding menu for just $70 each:
Appetizer: Cuban Papa Replenas
Fresh chopped salad
Entree: Truffle Lobster Risotto with Cuban marinade steak
Dessert: Mini Cannolis
For cocktails, we'll feature a tasting of excellent bourbons, specialty martinis, and – of course – Aliano's extensive wine list. Top off your dining experience by enjoying a fine cigar! Make your reservation at 847-844-0528.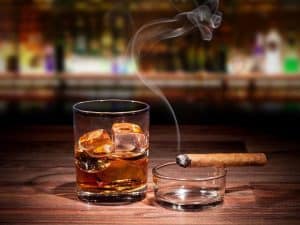 CIGAR NIGHT EAST DUNDEE IL
Here are some quick facts about cigars!
*Prior to boarding an airplane to take his first high altitude flight during the 1940s, English Prime Minister Winston Churchill asked for a special mask he could use to enjoy his favorite cigar. Churchill even opened up a window during the flight so he could ash his cigar!
*Inspiration for the cigar band can be traced to Russia's Queen Catherine the Great, who reigned during the 1700s. A fan of cigars, the queen developed cigar bands so she had an elegant way to hold them.
Author Mark Twain was a prolific cigar smoker who went through up to 300 cigars every month! When his wife asked him to stop he did – only to develop a bad case of writer's block. He was only able to write another book when he went back to enjoying cigars again!
In the early years of the Twentieth century, the main city for cigars was Cleveland. This was mostly because Cleveland received large tobacco shipments coming in on trains from Florida. During the long trip, the tobacco would become too dry and need to be rehydrated. Eventually, it became more sensible for cigar makers to simply relocate to Miami to reduce their expenses.
Book a table now at 847-844-0528 for Cigar Night East Dundee IL!